A New Look And Feel

Despite a looming tuna crisis, that's driving up the price of prime toro to record levels, we've spared no expense and spent nearly nothing to bring you a mildly revamped, yet still uniquely pleasurable, 50th edition of Austin Sushi News!
And even if we do end up eating raw horse and deer meat at Austin's 45 sushi bars, you can take comfort in the fine new Sushi Locator Map (see sidebar to the right) that we now offer. It's nearly identical to the old one, yet much faster and more accurate. [By the way, if you click on a map pushpin and see a "Picture This" photo instead of a photo of the sushi bar storefront, that means we don't have a photo - so snap one and email it to us, k?]
Miscellaneous events:
The Texas Culinary Academy presents their take on "Asian" food at Austin's Asia Food Fest this weekend.
Momiji Hibachi and Sushi has opened at 620 and 183. They do not have a sit-down sushi bar, however, so they don't get listed on our locator map.
Imperia Revisited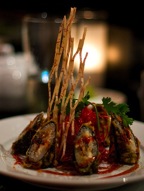 The AustinSushi team trekked back to Imperia for an all-out sushifest featuring some amazing creations from head chef Tatsu Aikawa and just enough sake to to keep things chill. Imperia is positioning itself as a downtown sushi player to be reckoned with despite being only blocks from Kenichi, Maiko, Kyoto, and Silhouette.
Uchi Expands
The Austin American-Statesman reports that Uchi will expand with a second sushi bar in an, as yet, unamed "North Central" Austin location, "perhaps within months."
Uchi's head chef, Tyson Cole, is also opening a third restaurant as well. It appears to be the prophesized sushi restaurant inside the new "W" Hotel rising up just North of City Hall. The new restaurant inside the "W" will be named "Canteen" and will feaure Japanese and Spanish cuisine.
DNA Fingerprinting Sushi
Our intrepid Austin Sushi News reporter, CuddleFish, alerted us to a New York Times story about two teenagers testing sushi at sushi bars in New York City. They discovered that a full 25% of sushi served to them (from tobiko to tuna) did not match the DNA of the seafood listed on the menu. No word on which sushi bars were guilty of the bait and switch, but hopefully a portable version of this DNA fingerprinting will become available (the pair had to send their sushi samples to a lab for testing).
Austin Sushi News reported on a similar scam (the reviewer used their finely tuned palate instead of laboratory testing) in the December, 2001 edition of Austin Sushi News.
SushiTrainer.com Officially Launches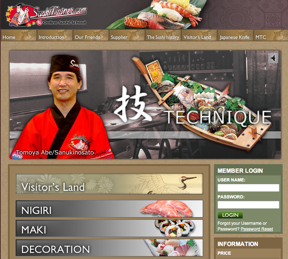 According to lead developer Masahiko Noguchi, sushitrainer.com took five years to complete, and the new online sushi chef training site had three top Los Angeles-based sushi chefs involved from start to finish. For a mere $10 monthly tuition fee, the site offers you over 170 different classes (totalling some 7,000 web pages). They unofficially launched on September 1st, and, by the way, anyone can take their online classes -- not just sushi chefs. Here's the quick bullet-point list:
Online real-time interactive video instruction
3-Way rotating instruction center for multimedia E-learning
Downloadable Lessons, recipies, nutritional data in PDF format
Over 300 Videos and over 10,000 photos
Professional instruction from beginning to advanced sushi training.
Online Note taking system
Message board
User administration center
Study at your own pace
Quick phone and email support
Resource and Links on how to obtain tools and sushi equipment
Sushi Kyu Automates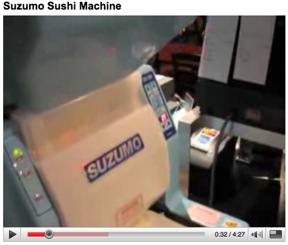 The former Origami Express at 2438 West Anderson Lane (the North side of Anderson Lane) has changed hands and is now Sushi Kyu (this web site does not seem to be responding). It's main claim to fame is their set of sushi robots that automate various sushi bar tasks including sushi rolling (see video above). The robot in the video is the Suzumo model SVR-BRX ($18,000 U.S.). It rolls sushi but does not perform all the steps necessary for more complex rolls. Still, Sushi Kyu's owner says that the machine replaces roughly one sushi chef at a reasonable cost (he's a regional distributor for the Suzumo line of automated sushi machines, by the way).
Corporate Sushi At The Kona Grill
Kona Grill is perhaps the largest sushi bar chain in the United States today. They're a public company listed on NASDAQ (KONA) and have 18 locations nationwide, from Nevada to Florida to Conneticut. Their Austin location is at The Domain, a somewhat strange manufactured retail/dining experience hewn out of the barren corporate landscape next to IBM in far North Austin (it's like an outdoor version of Barton Creek Mall). In the synthetic landscape of The Domain, Kona fits perfectly, offering cheeseburgers and turkey wraps alongside a full-service sushi bar that has a very expensive salt water aquarium behind it. We recently sampled their corporate sushi with, admittedly, some trepidation. The sushi was actually ok. The green tea teabags and cups of "soybeans" (edamame) made it feel more like a diner, though.
New Sushi Locator Map!

Play A Sushi Game

It's pointless and fun for the whole family. Can someone translate the instructions for us?



Shochu Versus Sake

Shochu (sometimes spelled 'Soju'), is a distilled Japanese alcoholic beverage made from sweet potato, barley, or rice. It exceeded sake in sales (in Japan) back in 2003.

Still not as widely served outside of Japan as sake, its popularity in Japan is largely due to the "famous" imbiber, Shigechiyo Izumi, a Japanese citizen who up until recently held the world record for longest life span (120 years).