Austin Sushi News #45, August 2006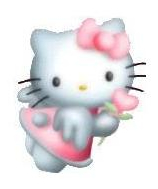 Welcome to Austin Sushi News, a friendly by-product of the sushi website for Austin, Texas, www.austinsushi.com. Once every month or so, we bring you the latest scoop on sushi bars and related matters in Austin, Texas. You can UNsubscribe at any time by sending email to webmaster@austinsushi.com or by going to our Google Groups mailing list home. Subscribe by going to www.austinsushi.com and filling in the mailing list box. If you have any problems, please send email to webmaster@austinsushi.com.
Contents
AustinSushi.com New And Improved!
We've re-launched www.AustinSushi.com with a spiffy new look that makes it easier than ever to contribute your opinions and reviews while keeping the site free from spam and other irritations. Plus, all the old content has been imported over, including your login. If you were a user of the old AustinSushi.com forums, simply request a new password and you'll be able to login to the new site, regaining ownership of any of your forum postings.
We've got fun branded clothing and goodies, and the ability to have your Flickr.com sushi photos accessible by simply tagging them with the tag "austinsushi".
Our new sushi bar ratings section is not up yet (stay tuned!) though our locator map has been updated and lets you zoom in on your favorite sushi bar auto-magically.
Feel free to send us your comments and suggestions.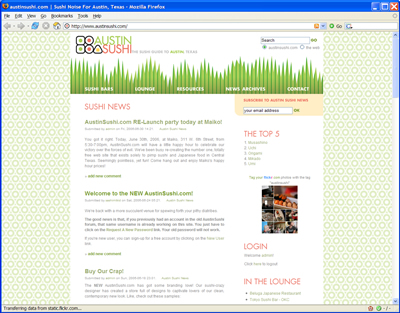 ---
New Sushi Bars Cometh And Goeth
New sushi bars are here...... Tomo, at 4101 W. Parmer Lane (phone: 512-821-9472), and Maru, at 4636 Burnet Road (phone: 512-458-6200). Post your reviews in our lounge.
The Austin sushi landscape is leveling out these days with some old sushi bars leaving while others are breaking new ground. Mimosa and Jade are gone while Sushi Sake and Origami are expanding. Origami has opened Origami Express at the Northwest corner of Burnet Road and Anderson Lane, while Sushi Sake is opening a second location down in the 2nd Street Warehouse District (note the fanciful spelling of "wasabi" below).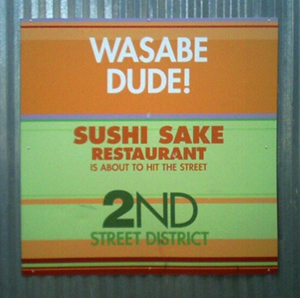 ---
The August issue of Consumer Reports magazine exposes the treachery of salmon wholesalers who try to pass off farm-raised salmon as wild salmon. The article (linked here) cites both health and cost concerns, as well as mislabeling:
"Of 23 supposedly 'wild' salmon fillets we bought last November, December, and March, during the off-season for wild-caught salmon, our analysis found only 10 that were definitely caught in the wild."
Farm-raised salmon, it turns out, has higher concentrations of pollutants than wild salmon, so wholesalers want to pass off their salmon as wild whenever possible.
Still, America loves salmon, apparently, and it's good for you too:
"The average Americanís salmon consumption has quintupled in the past 16 years, and with good reason: The fish is high in heart-healthy omega-3 fatty acids and relatively low in mercury. "
---
The Natural Epicurean, a local macrobiotic cooking school, has more upcoming Japanese-related food classes:
September 5th, Nabe, Sukiyaki & Stewed Vegetables
September 26th, Vegan Sushi
October 24th, The Joy of Soy: Tofu, Tempeh & Natto
As always, HEB's Central Market Cooking School has a sushi class or two almost every month, usually featuring Tim Thomas,

Executive Chef of Origami. His totally fun "Hands On Sushi" class is where you get blasted on Sake and Wine and learn the basics of making some kick-arse sushi at the same time. Yummers!